Dream-Team Summer tri shorts with Thin Pad

Free Standard Shipping On Orders Over $40 - Returns & Exchanges Accepted
ARE YOU LOOKING FOR A JERSEY THAT IS SUITABLE FOR ALL LEVEL OF CYCLISTS?
TRY THIS ONE, YOU'LL LOVE IT FOR SURE!

Our high-tech performance fabric pacing pro cycling jersey provides a close fit whilst riding. It is made from stretchy, breathable materials which help to transfer moisture out from the skin and keep you comfortable on the bike for a long time.

The combination of the high-tech design, creative concept, and excellent material makes this jersey outstanding sportswear in a pro level competition. It will also make your look fashionable on the road.

EXCELLENT VENTILATION SYSTEM KEEPS YOU COOL: This bicycle jersey is super soft, skin-friendly, lightweight and durable. You do not have to worry about sweat accumulating under the shirt making it sticky. The breathable, wicking mesh fabric draws sweat away from the body quickly.
EASY TO PUT ON AND OFF: A high quality front zipper slides makes it easy to put on and off. There is a soft cover at the zipper tip to prevent the scratching of the neck and chin and elastic hem keeps the rear in place to better fit.
THREE BIG POCKETS FOR ADDED CONVENIENCE: Don't worry about hunger or flat tires on the road. Our jersey has 3 rear pockets that can contain water bottles and other personal items like a stash pump, repair tool kits, phone, food or clothing for change.
POLKA DOT AND STRIPE FOR AESTHETIC APPEAL:
 Our jersey incorporates classic polka dots and stripes for added style. It makes you get more compliments on the ride. 
KEY FEATURES:
Advanced fabric performance.
Permanent design printing.
Full-length YKK zipper for ventilation.
Protective zip head garage.
Three open pockets provide convenient access to your ride needs.
Fitted cut provides streamlined body fit for enhanced performance.
Heat transfer reflective tabs and logo for increased road safety.
Please refer to the size guide - if in doubt please order a size up!
Our jerseys are shipped on demand, directly from the factory. The below timescale give best and worst-case delivery times:
United States: 2 - 3 weeks
United Kingdom: 2 - 3 weeks
Rest of the World: 2 - 4 weeks
And remember, we provide Free Worldwide Delivery!
Fabric processes that are both people-friendly and eco-friendly
At Cycle-Run we're proud of our high-quality products! We choose materials designed to give you the ultimate comfort on your bike. These same materials require extra care when washing or drying them. 

Recommendations to Keep You Cycling Gear In Good Condition: 

If possible hand wash your Cycle-Run gear with cold water. 
Use quality washing detergents. 
Hand/air dry your Cycle-Run gear away from direct sunlight.
If washing with a machine use temperatures below 30C / 86C 
If you need to iron use low heat settings. 

Things to Avoid: 

Bleach or fabric softener. 
Tumble drying your Cycle-Run gear. 

P.S. Remember, every product will have specific care instructions on a label inside it.
WE ARE COMMITTED

TO BRING YOU THE LATEST PRODUCTS

THE BEST SELECTION

,AND KEEPING THOSE PRODUCTS IN STOCK. OUR GOAL IS PROVIDING THE CONSUMER WITH THE BEST PRICES IN ALL OUR PARTS,CLOTHING AND ACCESSORIES.WE STOCK THOUSANDS OF THE HOTTEST CYCLING.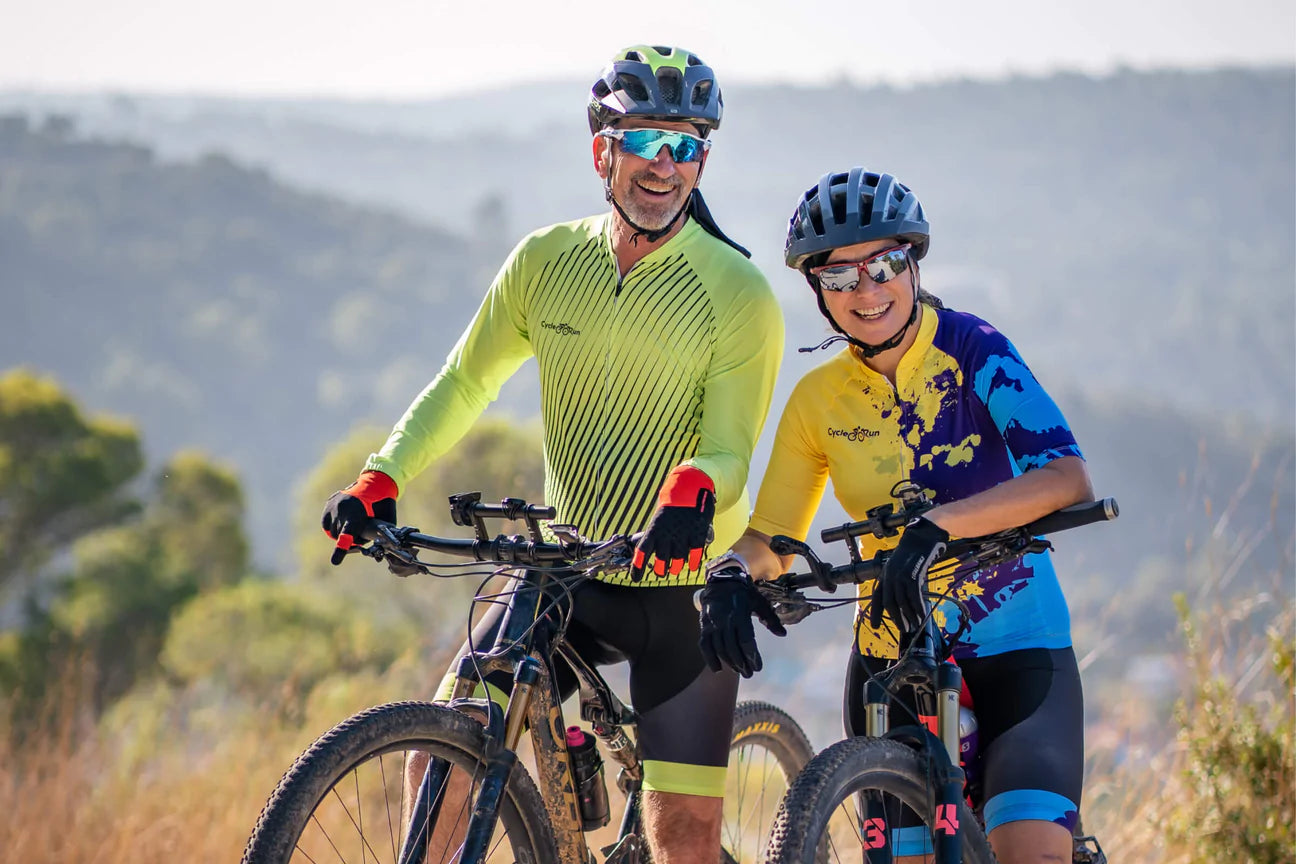 With a focus on craftsmanship and sustainability you can:Ride in comfort, Perform in style, Own gear designed to last a lifetime.
Join Over 10,000+
Cycle-Run

Lovers!