Custom Design Cycling Kit

Free Standard Shipping On Orders Over $40 - Returns & Exchanges Accepted
Customize your all-round cycling comfort: Cycling Kits by Cycle-Run
Cycling feels great to you but does it feel comfortable enough? If you enjoy cycling but it still does not feel comfortable, it is time to upgrade your cycling kit. At Cycle-Run, we take care of all your needs: cycling jerseys, jackets, pants, bibs and caps. 
Experience the premium cycling experience with Premium cycling kits
Getting a cycling kit with every apparel matching the other is tedious. At Cycle-Run, we offer you innovative designs along with options to customize your entire kit the way you want! 
Our Cool-Max Technology and Quick-Dry technology work together to give you a comfortable riding experience in all terrains and weather conditions. Remain unflinched by sweat and its irritation with best-in-class ventilation in your cycling kit.
How to order your custom cycling kit from Cycle-Run?
Fill out the form

: There are necessary details about your design and you that we need to know before we reach out to you.

Our Cycle-Run specialist reaches you

: Discuss your requirements intricately. It helps our expert understand what you exactly want.

Presenting you the Design suggestion:

Our specialists hand-pick a few design ideas they come up with, work on them and get them approved by you. Once the approval is done, we step into production.

Letting the fabric magic brew:

The production process takes 7 days for personal orders or more than that depending on the order size.  

Delivering your kit:

Your personalized kit, designed by you and for you, takes a legitimate amount of time to reach you depending on your location. It is never too late, and the wait is worthwhile!
FAQs
Are Cycle-Run cycle kits durable?
Our advanced textile technology makes our kits extremely durable and adaptive. 
Are Cycling kits necessary for cycling?
Safety and comfort comes first. Our cycling kits facilitate better mobility, ventilation and protection.
Is Cycle-Run a reliable cycling kit manufacturer?
We do not like to say it. Our work and client reviews reflect them.
Is the 30-day money-back guarantee legitimate?
Our 30-day money-back guarantee is a quality assurance we give to our clients. We are confident about our products and claims.  
Fabric processes that are both people-friendly and eco-friendly
At Cycle-Run we're proud of our high-quality products! We choose materials designed to give you the ultimate comfort on your bike. These same materials require extra care when washing or drying them. 

Recommendations to Keep You Cycling Gear In Good Condition: 

If possible hand wash your Cycle-Run gear with cold water. 
Use quality washing detergents. 
Hand/air dry your Cycle-Run gear away from direct sunlight.
If washing with a machine use temperatures below 30C / 86C 
If you need to iron use low heat settings. 

Things to Avoid: 

Bleach or fabric softener. 
Tumble drying your Cycle-Run gear. 

P.S. Remember, every product will have specific care instructions on a label inside it.
WE ARE COMMITTED

TO BRING YOU THE LATEST PRODUCTS

THE BEST SELECTION

,AND KEEPING THOSE PRODUCTS IN STOCK. OUR GOAL IS PROVIDING THE CONSUMER WITH THE BEST PRICES IN ALL OUR PARTS,CLOTHING AND ACCESSORIES.WE STOCK THOUSANDS OF THE HOTTEST CYCLING.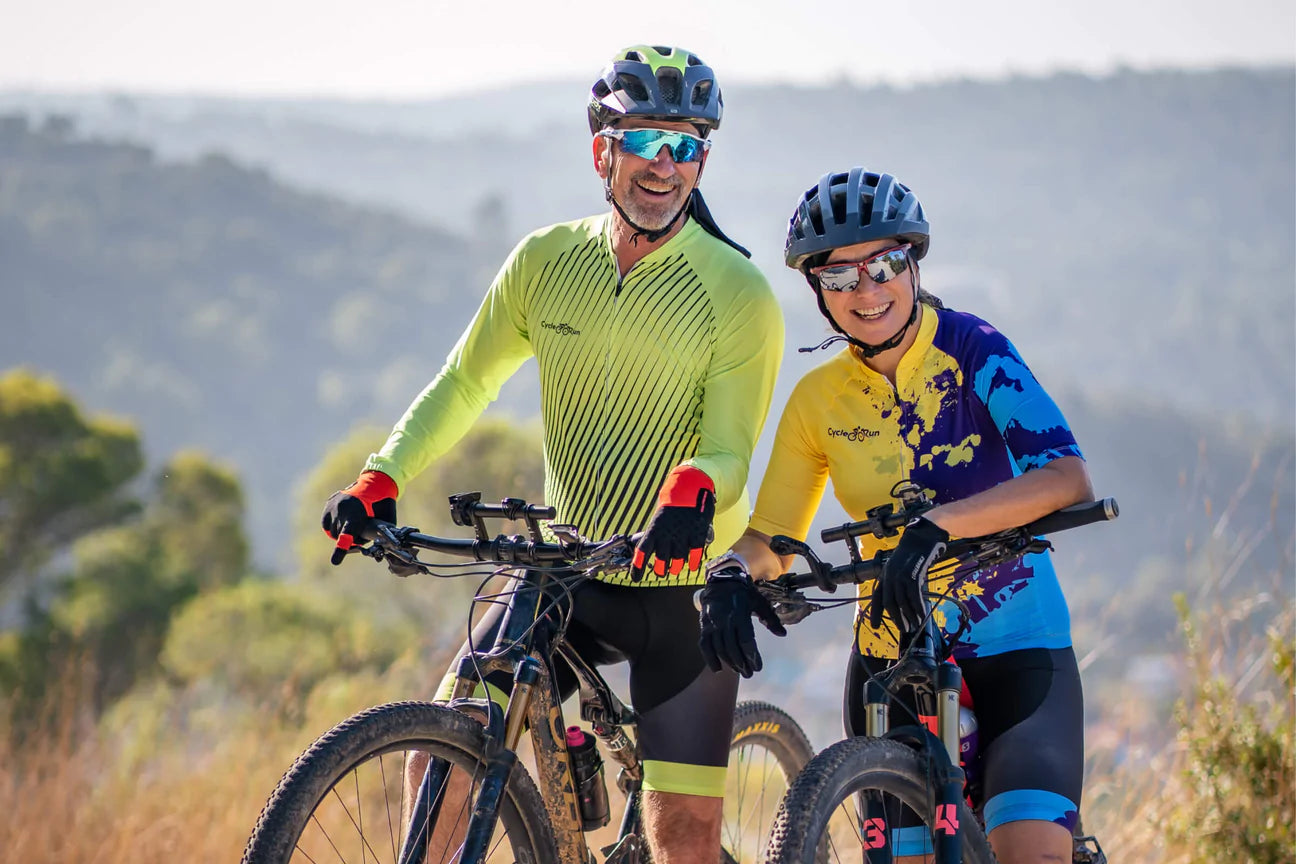 With a focus on craftsmanship and sustainability you can:Ride in comfort, Perform in style, Own gear designed to last a lifetime.
Join Over 10,000+
Cycle-Run

Lovers!